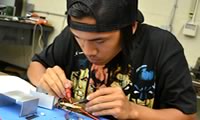 How to Apply
»»»»»»»»
Career Development
Education and training at UH Community Colleges take many forms. In addition to degree and certificate programs, the community colleges offer short-term education programs that prepare you for industry certification, enhance workplace skills, or provide personal or professional development.
Pacific Center for Advanced Technology Training (PCATT)
PCATT is just one of many special programs that focus on specific training. PCATT, a consortium of the UH Community Colleges, provides training advanced technology applications for various computer operating systems, networking, telecommunications, GIS and GPS, programming, digital graphics, open source, technology for teachers and other web development and design applications. PCATT prepares you for industry certification and career advancement.  more info
Continuing Education and Training is offered at all seven community colleges. Whether you want to enrich your life or advance your career, the offices of Continuing Education and Training will help you attain your goal.
Resource Links: