One of the most affordable
options in Hawai'i
Flexible Classes
online, in-person, day or evening
Locations
on every island
The University of Hawai'i Community Colleges will help you define your path, discover your future and make it happen. Whether you are looking to earn a degree, rebuild your skills, or explore a new career, there's a place just for you.
 Here is what makes our campuses worth the investment:
Affordable
We know college is a major investment for you and your family. The University of Hawai'i Community Colleges are committed to making your higher education goals affordable.
If you're a Hawai'i resident, tuition is just over $3,000 a year compared to other Hawai'i colleges that cost over $11,000!  
Other costs include books, supplies, parking, and fees for things like student activities will add to your bill. However, there are many grants and scholarships available including the Hawai'i Promise, which provides funds to qualified students pursuing a degree at one of the UH Community Colleges. 100% of students' unmet tuition need can be met through a combination of federal grants (if applicable), other scholarships, and the Hawaiʻi Promise!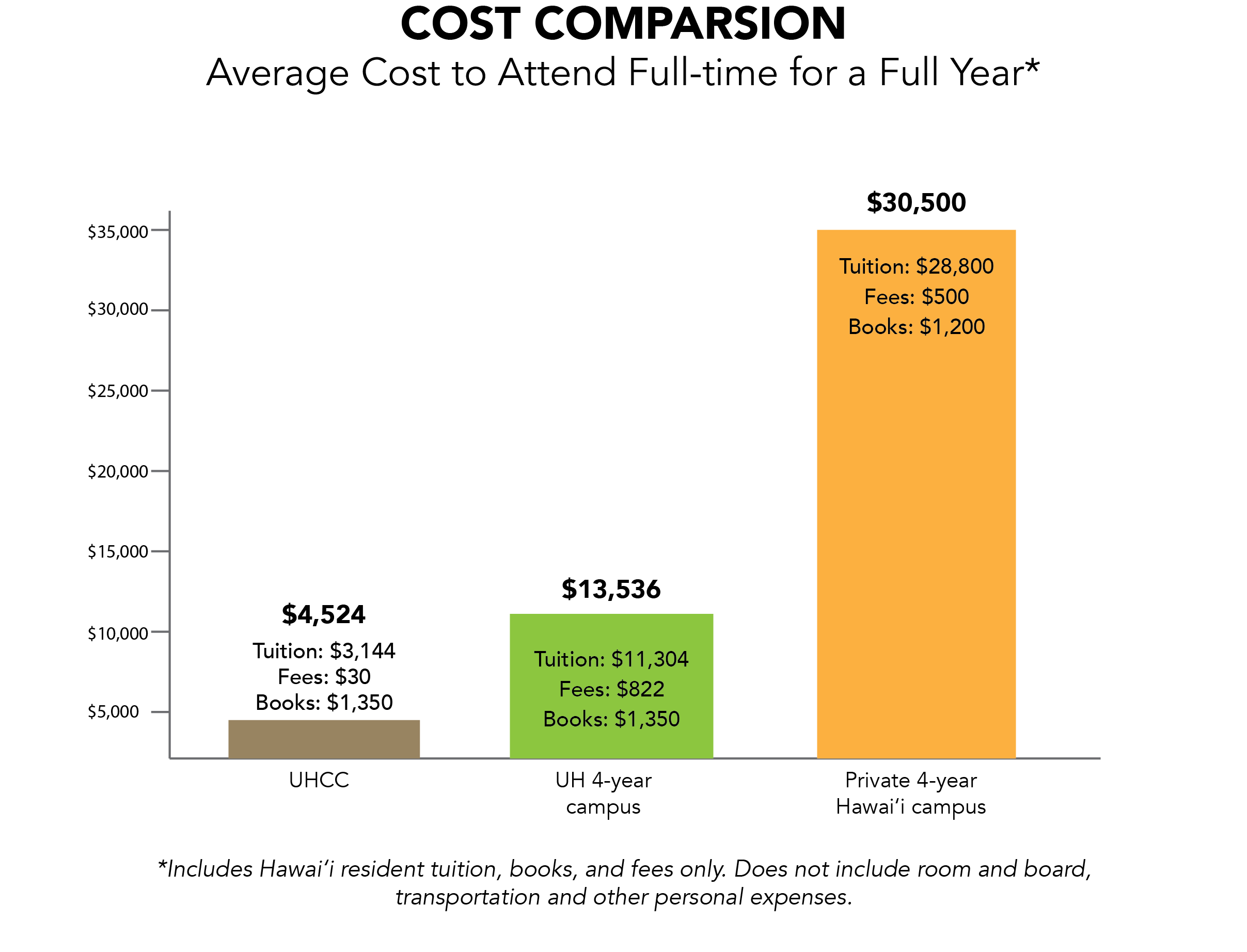 Flexible Classes
The UH Community Colleges offer classes to accommodate anyone's schedule – full-time, part-time, day or evening, online or in-person. You can work closely with an academic counselor to help you choose and register for classes and ensure you're on a path to success.
Accessible - A "Campus" on Every Island
There are seven UH Community College campuses statewide plus educational centers on Molokai and Lanai, so you don't have to go far for a high quality and affordable education!
Connect to Meaningful Careers
The University of Hawai'i Community Colleges offer a variety of short term training and certification programs that will increase your employment paths to in-demand, living-wage jobs in Hawai'i. Our campuses can help you build your skills in one of the state's thriving local sectors including healthcare, technology, and skilled trades that will prepare you careers and success in today's economy.