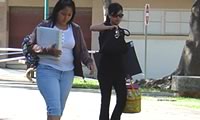 Admissions
Whether you're attending college for the first time or coming back after years away, the UH Community Colleges can help you reach your goal through small classes, affordable tuition and convenient class times and locations.
You are eligible to apply any one of the University of Hawai'i Community Colleges, if you:
Are 18 years of age or older, or
Have earned a high school diploma, GED or equivalency
Check Application Deadlines
Generally, the community colleges application deadlines are:
August 1 for the Fall Semester and December 15 for the Spring Semester. However, application deadlines for general college admission, international students and selective admission programs may vary at each community college. We recommend that you check the individual college's Website for details.
Apply Now
Learn more about applying to the campus of your choice by visiting their admission website.
Hawai'i Community College
Honolulu Community College
Kapi'olani Community College
Kaua'i Community College
Leeward Community College
Maui Community College
Windward Community College
Complete the UH System Application Form online
All University of Hawai'i campuses use the same System Application Form for undergraduate enrollment, however, applications are submitted to and processed by each individual campus.
Submit an application if you are:
Not currently enrolled at any of the UH system campuses.
A first-time college student.
A returning student (a person who previously attended but is not currently enrolled at any other UH campus).
A transfer student (a person who is currently or was previously enrolled at a non-UH institution).
An Early Admission or Running Start student (a high school student admitted under the Early Admission or Running Start program).
Acceptance Notification
For general admissions, notification will be sent within two weeks after the UH System Application and other required documents are received.
During periods when a high volume of applications is being processed, notification of acceptance or rejection may be delayed.
Check Residency Status
You must submit the Residency Declaration form. It is used to determine your residency status for tuition purposes.
If you do not qualify as a bona fide resident of the State of Hawai'i, according to the UH regulations in effect at the time you register, you must pay nonresident tuition for your classes. Residency status will be determined at the time of application. You may be required to provide verifying documentation.
Submit the following to the college of your choice.
UH Online System Application Form.
If applicable, include the $25.00 nonresident application fee with your application form. See individual community colleges for details.
College or university transcripts are required if you want transfer credits from non-UH institutions.
If you have Advanced Placement (AP) or College Level Examination Program (CLEP) scores and want to receive college credits, submit test scores.
Health Requirements
UH Community Colleges require that Tuberculosis (TB) and Measles Mumps Rubella (MMR) immunization clearances be submitted to the Admissions and Records office prior to registration.
You may be accepted to college without clearance, but you will not be able to register for classes until your clearance documents are received. For details, contact the campus of your choice.